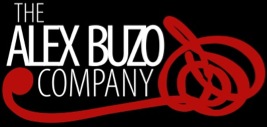 presented the western Sydney premiere of its acclaimed production of
NORM AND AHMED by Alex Buzo
"A revelatory production...a fine revival of a great classic" The Australian
SEASON SOLD OUT!
Director: Aarne Neeme | Designer: Deirdre Burges | Lighting: Tony Youlden | Producer: Emma Buzo
Cast: Laurence Coy and Craig Meneaud
June 8-11 2010, Raffertys Theatre, Riverside Theatres, Parramatta


702 ABC Sydney - a cliff hanging interview with cast and producer
Producer Emma Buzo together with Laurence Coy and Craig Meneaud had a blast with Deb Cameron on
702 ABC Sydney
on June 3rd in preparation for the next chapter in the illustrious career of 'Norm and Ahmed'.
Listen
to the interview featuring a live excerpt of the play.
Never underestimate the power of difference is the powerful premise behind this watershed Australian play about cultural and generational tension. This critically acclaimed production refreshes Buzo's sharp, witty, tension-fuelled dialogue between a young, articulate Pakistani uni student and a middle aged Aussie bloke for a contemporary audience. Norm and Ahmed's sensational 1968 premiere quite literally put Australian theatre on the front page for the first time and the infamous nation-wide censorship battle that ensued is a far cry from its brand new listing as a NSW HSC Drama text in 2010. The performance will be followed by a Q&A session specifically designed to enhance the students' understanding of the play's social and cultural context, plus the techniques used by Buzo and the inspiration behind the play.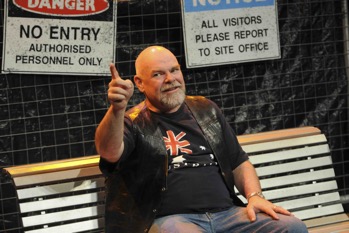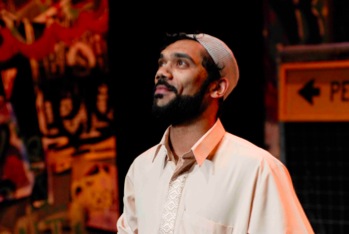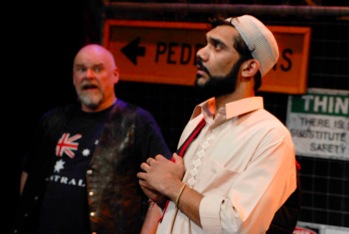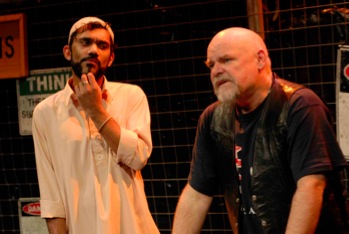 'Norm and Ahmed' is on the NSW HSC Drama Course Prescriptions 2010. For schools bookings click
here
. For comprehensive resources on this NSW HSC Drama text go to
BUZO ED

This play was part of The Alex Buzo Company's production
nominated for a
2009 Sydney Theatre Award
"
Given the abundance of great independent theatre in Sydney in 2009, this is a huge accolade for Emma Buzo and her fledgling company 2009 to be one of only four nominees."
(ABC Radio National)