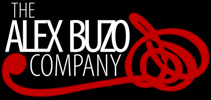 Emma Buzo's introduction to
The 2008 Alex Buzo Memorial Lecture
August 14 2008
Click here to listen to a podcast of the event.

In the 1970's, one of the first things my father, the late playwright, author, journalist and UNSW alumnus Alex Buzo instilled in me was an appreciation, for sport. In fact, I remember staring wide-eyed at this usually restrained and unemotional man beating his brow and falling off his seat during rugby league matches. Although any long-suffering supporters of the tragic-comic North Sydney Bears present this evening are probably thinking "well what did you expect?"

It wasn't until I was listening to his occasional address on receiving an Honorary Doctorate from UNSW in 2005 that I realised there was a bigger, and far less tragic path of enlightenment in his life: his education. He spoke of how, decades after his arts degree, he realised how much he had learned at this place and became more involved in Alumni affairs. "It was time to give something back." he declared.

Backing "Team University" is not a new idea and there are many thriving alumni organisations around the world. But I'm sure many will admit that they harbour no special feelings for their alma mater and they've never looked back. Australians are naturals at backing sporting teams. But this doesn't always translate to our education. Often, students have the attitude of "get in, get your degree and get out" when it comes to university education. Why? Perhaps it's become just another product. Another service. Another box to be ticked. Plus, students pay big money for it in contemporary times, sometimes leaving little time or inclination to stop and smell the roses. And when you pay for something, people are more likely to think to themselves "what will I get?" rather than "what can I learn?"
In contemporary times, a degree can feel more like something you consume, rather than experience , one of the many things you can get online while in your pyjamas - along with shopping for groceries, and finding a life partner. For many new students, sitting in a lecture theatre with hundreds of others is an overwhelming experience, and they may well wish they'd stayed at home in their pyjamas.
However. Great things can happen at uni and great people get inspired. If Buzo hadn't been downing beers with his mates in the uni bar, he would never have witnessed the incident that inspired and led to the on-campus premiere of his most famous play "Norm and Ahmed" now studied in universities and schools around the country.

Even if we don't realise it at the time, university education plays a significant role in shaping lives and it's in our best interests to strengthen these roots. Why? Because it gives this often disjointed life a through line. A history. A shared history. As Bentley from Buzo's play "Rooted" says "You've got to have a point of reference."

In preparation for the inauguration of The Alex Buzo Memorial Lecture, I've been studying Alex's 2005 address on receiving his Honorary Doctorate entitled "Memoirs Of An Unswonian" in which he says:

"At Orientation Week we were welcomed in the Science Theatre by an address from the Vice-Chancellor, and then a Students' Union representative asked us to file out respectfully and go down to the Village Green for the funeral of a student who had died in the holidays. We thought this was a bit odd and in questionable taste, but we complied and when we had followed the coffin down to the Green we were told that the student had "died of apathy" and not to let this happen to us. It had been a successful hoax and they had, in the argot of the day, "got us a beauty". I think we responded well, and the students of the sixties could not have been accused of apathy" 1.

It soon became apparent that this university was no ivory tower or "Little Europe" like some of its rivals. It introduced courses in Australian Studies, and in History we were urged to do some Australian material because that was where the primary sources were. In English we did Phonetics and it taught us to listen to what people were saying before writing it down in sound language. Not surprisingly, I ended up writing a play about Governor Lachlan Macquarie.

Alex goes on to describe two great "Unswonian" moments that arose because of his play "Macquarie." "Unswonian" was a term coined by one of Alex's classmates who thought that "the University of New South Wales" was a mouthful so why not call graduates "Unswonian" after all, people who went to Oxford are known as Oxonians.

The first "Unswonian" moment was when the play was presented at Government House in 1997. Alex said:

The Governor of the time was former UNSW Chancellor, the late Gordon Samuels and he was the first holder of this office not to live at Government House. "Macquarie" was the first play to be produced at this historic site and after a performance I introduced the Governor to the actor playing Macquarie, who happened to be one of the first NIDA students enrolled at the little white cottage on High Street. "You realise I'm the entrepreneur of this production," said Governor Samuels To Governor Macquarie. "If I hadn't agreed to move out you wouldn't have been able to move in."

The second "Unswonian" moment was out at Old Government House in Parramatta when the manager said to Alex and the cast: "It's been a pleasure having you all here. You've brought this place alive." Apparently, the only other historical attraction in the area at the time was an exhibition of nineteenth-century honey jars and in Alex's words:

"we had succeeded in our aim, to provide something along the lines of life, people, the human factor … which is what dramatic art is supposed to do."

It's Alex's Unswonian/Macquarie moments that inspired Alex to become more involved in alumni affairs and then in turn, his inspiration is the energy behind the inauguration of The alex buzo memorial lecture. Alex was an advocate of many things – free speech critical thinking and constructive questioning. His acclaimed career spanned four decades, many literary genres and since his epiphany in the 90's he has frequently and publicly referred to the influence of his university career and how it shaped him as an artist and a thinker.

Alex's father, Zihni Buzo, revered his own university education and encouraged Alex to do the same. Very few young Albanian boys in the 1920's were able to leave the country through a series of academic scholarships, study at Harvard University and migrate to Australia. So for Zihni university education was a rare and precious privilege and something to be very grateful for.

It's in all our interests though, to strengthen the team that educated us. To look more closely at where people came from and the experiences that shaped them. My vision is to illuminate the path from education to life and the wonderful things that can and do happen along the way. If you're looking out for them, that is.

Alex also recalled during that 2005 address, which, incidentally, was only months before he died:

"With all the ego of the young, i had set out single-handedly to transform the australian theatre into a truthful, idiomatic reflection of the society around it. I failed, of course, but I take some comfort from the words of the poet, "say not that the struggle nought availeth." 1.

It's true, a life in the arts is…well it exhausts me to try and define it. But I can define Alex Buzo's canon no sweat. It is complete and assured. His plays, novels, books and articles form an extraordinarily enjoyable course of education: One that reflects contemporary life with unswerving honesty and integrity and maps contours of the human heart.

Alex tried to instill many… respectful and useful things in me during his lifetime, just as his father instilled in him. Unfortunately, I'm not the "instillable" type. However! All has not been lost as in the spirit of those great words "say not that the struggle nought availeth" early last year, I was bitten by the most ferocious desire, not only to be associated with Alex's extraordinary canon, but to assist it, guide it, and most importantly, be educated by it. This led to the launch of The Alex Buzo Company to administrate and promote his literary estate.

On a mission of advocacy last year, and spurred on by Alex's public pride in his alma mater, I took the good Dean of FASS, James Donald to a performance of Alex's famous play "Norm and Ahmed" and put to him my idea of establishing an annual Alex Buzo lecture.

So I feel that my role here is simply to act as a conduit for Alex's allegiances and alliances. Very straightforward stuff really! Alex had planned to live a lot longer, but thankfully, he was incredibly productive in his lifetime and I've got a lot of…"instilling" to be going on with.

I thank James Donald and the Faculty of Arts and Social Sciences for listening and sharing this vision through the inauguration of this event.
It is now my great pleasure to introduce another eminent "Unswonian" to deliver the first Alex Buzo Memorial Lecture – Bob Carr.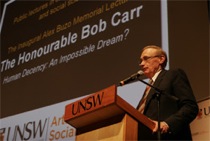 1. "Memoirs of an Unswonian", Quadrant Magazine, April 1 2006