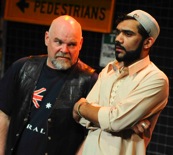 A
lex Buzo's watershed Australian play
'Norm and Ahmed'
is currently on the
NSW HSC Drama Course Prescriptions 2015-2017
topic:
"Dramatic Traditions in Australia", in the core component "Australian Drama and Theatre."
The Alex Buzo Company produced numerous seasons of the play, including
2007
at the Old Fitzroy Theatre,
2009
at the Seymour Centre and
2010
at Riverside Theatres Parramatta.
"a revelatory production...a fine revival of a great classic"
(John McCallum, The Australian)
"this is an incredible play: engrossing and exhausting and confronting."
(Australian Stage Online)

Here are some audio/visual/print resources on 'Norm and Ahmed' which students and teachers may find stimulating and informative.

NEW IN 2015 - 'Not in Print', a podcast produced by Currency Press about 'Norm and Ahmed' and its cultural significance in Australia and beyond




Purchase a DVD of the ABC Television program "Remembering Alex Buzo"


ABOVE: clip from The Alex Buzo Company's production of NORM AND AHMED Directed by Aarne Neeme with Laurence Coy & Craig Meneaud

Above: a recent Channel 7 news report on NORM AND AHMED and its special place in Australia's cultural history.


ABOVE: footage from an ABC TV 'Talking Heads' episode on Graeme Blundell who produced Norm and Ahmed in 1970 including footage of the play being done for a magistrate and his court. More information in The Naked Truth.



Education Notes
for Norm and Ahmed
including an overviews of the play in the words of Alex Buzo and suggested classroom activities devised by the BUZO ED team.

Triumph of censor's target
an article by Graeme Blundell

in The Australian newspaper chronicling NORM AND AHMED's past, present and future, July 2009.

702 ABC Sydney interview
Click
here
to listen to Deb Cameron's with Emma Buzo, Laurence Coy and Craig Meneaud featuring a live excerpt of the play, June 2010.
ABC Radio 702
Sydney Review of
NORM & AHMED + SHAFANA & AUNT SARRINAH August 2009
Australian Stage Online
NORM AND AHMED plus SHAFANA AND AUNT SARRINAH review August 2009
The Sunday Telegraph
"The power of Buzo inspires Valentine", July 26 2009

The Sydney Morning Herald
"Holding a mirror to an Australian classic" August 2009
The Sydney Morning Herald
NORM AND AHMED
review
October 2007

The Australian
NORM AND AHMED review in
October 2007

Australian Stage Online
NORM AND AHMED review
October 2007
702 ABC Sydney
interview by Virginia Trioli with Emma Buzo on the work of Alex Buzo, 2007
ABC Radio report
on the day of Buzo's passing, August 16 2006 incl. Buzo talking about N&A.
Wary Asians on a theme: dramatising in the near north
article by Alex Buzo in Quadrant Magazine, 2004

National Library Interview
an excerpt the transcription referencing NORM AND AHMED 2001

Norm in the Wars
an excerpt from Buzo's book 'Young Person's Guide to the Theatre' 1988

Chez Taboo
an excerpt from Buzo's book 'Young Person's Guide to the Theatre' 1988
Workshops available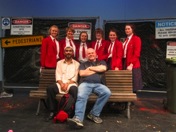 A workshop can be tailored to to suit the needs of any HSC Drama class. Students will gain an insight into the rich history of this infamous work and experience the plights of both "Norm" and "Ahmed" first hand. Participants are guided through a range of exercises and experiences to expand and stimulate their knowledge of the text. Actor, Director and Educator Laurence Coy (a.k.a. the 'definitive Norm') has a long and varied association with the play and is able to share his insights in a practical and entertaining context. To enquire about workshops, email: [email protected]

"the students loved the workshop, they discussed it for the remainder of the day, they also really appreciated your passion towards the play."

"In two hours, you covered what would have taken us two weeks"