The Armidale School Foundation presents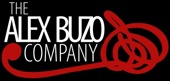 production of
NORM AND AHMED by Alex Buzo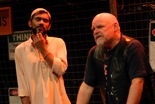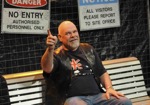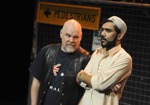 Director: Aarne Neeme | Cast: Craig Meneaud & Laurence Coy
The Armidale School Hoskins Centre
Friday September 25 @ 1pm, Saturday September 26 @ 7pm, Tuesday September 29 @ 11am
Tickets: $15 | Call TAS reception for tickets: 6776 5800
Read the article in The Armidale Express about the tour

"a revelatory production...a fine revival of a great classic" (The Australian)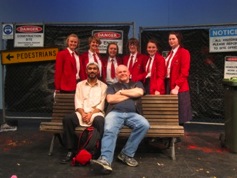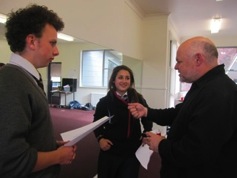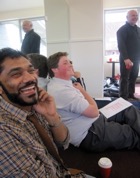 (Above L to R: Calrossy students after a Q&A session on 'Norm and Ahmed', Laurence Coy with students during a workshop on 'Norm and Ahmed',
Craig Meneaud, TAS student and Laurence Coy during the workshop)

THE BUZO FAMILY AND ARMIDALE: A RICH HISTORY
by Emma Buzo, September 2009

Emma Buzo, the Director of The Alex Buzo Company and daughter of pioneering Australian playwright and author Alex Buzo (1944-2006) is delighted to be working with The Armidale School to present this limited season of Buzo's play Norm and Ahmed for the greater Armidale community at the TAS Hoskins Centre. Most excitingly, this collaboration highlights the shared history of the Buzo family and Armidale.

Buzo's iconic Norm and Ahmed, an encounter between a middle-aged Aussie bloke a young articulate Pakistani uni student, was the play that gave contemporary Australian theatre its front page debut and has been studied in schools and universities around Australia and produced across Asia since its 1968 premiere. It is currently a NSW HSC Drama Text.

The character of "Ahmed" was directly influenced by the experiences of Alex Buzo's father Zihni Buzo OAM. A highly educated Civil Engineer, Zihni escaped Mussolini-occupied Albania in 1939 and came to Australia. After a number of wartime engineering jobs, Zihni moved to Armidale with his Australian wife Elaine and two sons (Alex and Adrian) in 1951 to take up his position as Designing and Chief Construction Engineer on the Oakey River Hydro-Electricity Scheme. Zihni Buzo was well-known in Armidale through his community work for Rotary, Austcare, and many other organisations which saw him awarded an honorary Master of Science degree from the University of England in 1986 and a Medal of the Order of Australia in 1991.

Alex Buzo attended Ben Venue School and then The Armidale School "where his English teacher, Brian Mattingley, opened him to the wonder of drama, the joys of Shakespeare and the majesty of the language" (SMH Obituary 2006). Alex has also written about the wonderful experience provided by one of his masters at TAS, D.L. Graham, who organised an end-of-year revue which saw the future playwright pen his first scripts for performance.

Alex Buzo left Armidale after completing his Leaving Certificate at TAS and went to Sydney where he attended the University of New South Wales. It was in Sydney that he met and married Merelyn Johnson. Merelyn also grew up in Armidale and was the daughter of Walter and Marjorie Johnson. Curiously though, the pair never met during their youth in Armidale.

Alex Buzo died in Sydney of cancer in 2006 only a few months after his father Zihni passed away. Alex's family recently brought his ashes to Armidale, where they feel he would have wanted to be laid to rest.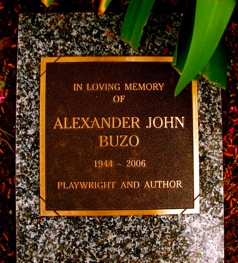 Above: the site of Alex Buzo's ashes, Armidale NSW, Australia