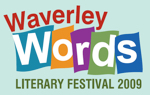 The Waverley Words Literary Festival 2009
in association with The Alex Buzo Company presents an interactive panel event

DELIGHTFULLY MANGLED:
CELEBRATING THE USE (AND MISUSE) OF LANGUAGE IN AUSTRALIA

Featuring author LARRY BUTTROSE, comedian JACKIE LOEB, sports legend
ROY MASTERS and hosted by EMMA BUZO

October 28 @ 7pm, Bondi Pavilion Theatre, Sydney. Cost: FREE
Bookings: Ph 02 9386 7709 (Waverley Library) or send Emma Buzo an email
View the event flyer


Alex Buzo was one of Australia's wittiest social commentators and a pioneering figure in the often bloody and consistently hilarious sport of 'word watching'. Through his satirical writings, Australians enjoyed the exuberant highs and memorable lows of the English language as used (and misused) by the media and those in public life. This interactive panel event puts Australia's current form under the microscope. Who or what are the vernacular's biggest influences right now? And why do we continue to get it so spectacularly wrong? As Buzo once wrote-

"We all make mistakes with language - but some of us do it much better."


JACKIE LOEB has delighted and tormented audiences with her highly original brand of humour at Comedy festivals throughout Australia and around the world. You may have seen Jackie on Spics and Specks, Beauty and the Beast, Full Frontal, The Footy Show, NBC's Last Comic Standing or perhaps just eating Pad Thai at her local food court. Jackie is a regular columnist with the Australian Jewish News and is currently producing a comedy series for US website 'Slapstik'. When not in quarantine, Jackie is a regular panellist on 'Thank God its Friday' on ABC 702 and when not busy updating her status on Facebook enjoys abusing the English language and making spelling mistakes.



LARRY BUTTROSE is the author of more than a dozen books and has a long-standing interest in words. He published his first poem at 17, and since has written journalism, essays, fiction and nonfiction,as well as poetry, plays and screenplays. His most recent book is Speeches of War and Peace, published this month, and his latest project is writing a new stage version of the classic Don Quixote for the Bell Shakespeare Company, under the Cultural Cooperation Program between the Spanish Ministry of Culture and ANU.


ROY MASTERS writes for the Sydney Morning Herald and appears on the ABC TV show, "Offsiders." He was a first grade rugby league coach for ten years, coaching Western Suburbs and St George. He is a member of the Western Suburbs Team of the Century. Roy comes from a literary family. His mother, Olga, wrote five books and many plays and his brother Chris is the former Four Corners investigative reporter. His sister Sue was head of drama at Channels Two and Ten and produced shows such as "Brides of Christ" and "Sea Change." Roy enjoys crossing literary swords with colleagues, especially Tom Keneally. He is fascinated with "footyspeak."



EMMA BUZO is the daughter of
Alex Buzo
and the
Director
of The Alex Buzo Company. For years, she thought all fathers pulled over to take photos of misspelt signage and hovered over the record button on the video remote to catch those magic foul ups, bleeps and blunders. She now realises she was just lucky.