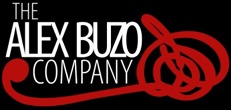 A CONTINUING VISION
A speech given by playwright Alana Valentine at
An Evening with The Alex Buzo Company Advisory Board
November 25 2008

Alex Buzo mentored me during the production of my first play at the Australian Theatre for Young People in 1985. Our first meeting was at the Red Rose Cafe in Macquarie Street where I ordered a pie and chips and he a packet of peppermint Blizzards. He told me that if I would like an actor to emphasize a certain word in a line I should simply underline it! I told him that that ATYP director at the time had told me that acting was a subtle artform and I should not try to predicate the way a line should be said. 'Nah, underline it where you think the emphasis is,' he told me. He also advised me not to use direct address to the audience in my first stage play and then, when I did so despite his warnings, he came up to me on the opening night and told me that he was 'quite wrong' and that the direct address had worked a treat. To me that has always stood as a measure of great courage - this incredible gifted and experienced writer willing to be surprised and revise his judgement of a young writer who was really nothing more than an opinionated upstart. It continues to be for me a genuine and sincere brush with his greatness as an artist and I am delighted to be participating in this project with the play Shafana and Aunt Sarrinah.

Shafana and Aunt Sarrinah is partly a plea for understanding, partly a bellow of rage from Muslim Australian women about the ignorance and misunderstanding that surrounds the wearing of the traditional Muslim headscarf. Based thoroughly on personal interviews and produced with the sustained support of a large number of Muslim women from a diversity of Muslim cultures, this short play addresses theatrical and social questions about representation, religious freedom and inter-generational conflict raised by Buzo in Norm and Ahmed. Louis Nowra noted that Buzo's plays are about language and how people 'use language as a deliberate tactic to put other people off guard' Norm and Ahmed was where I first saw Australians presented in a way that I could deeply identify with - not the fumbling inarticulate attempts at lucidation chronicled in Patrick White or even the charming warmth of Peter Kenna but the brutal undertow of agression veiled in genial, irreverent humour. Indeed I see a trajectory right through Australian theatre from the first inclusion of the idiom, peppered throughout plays where the vowels of English theatre still persisted, through the experiments of the 60's and 70's where the music, the rhythms and the tactics of our idiom were explored, right up to and including the use of verbatim in a contemporary Australia which is informed by religious, cultural and global diversity of language. I made Run Rabbit Run as a pure verbatim play because one of my intentions was to surprise audiences with the lucidity, philosophy and courage of people who might stereotypically might be dismissed as uncultured footy fans. I made Parramatta Girls as massaged verbatim because I wanted to invited audiences to bear witness to the brutalization of the Australian nation in its almost continuous history of incarcerating children and puzzle over the adults it produced being some of the toughest, funniest most loving women you are likely to meet. Shafana and Aunt Sarrinah, likewise will surprise you with its portrait of Afgani Muslim women who are articulate, highly educated, deeply spiritual and profoundly enraged by the portrait that is painted of them in the Australian and global media as oppressed, meek, and silent.

That Buzo should be able to 'speak' through his play Norm and Ahmed to a contemporary Australian audience is a grand and noble vision, one for which this Company was laudably founded. But for Emma Buzo to have innovated a project where Buzo's theme and concerns might be reignited in a new work by a contemporary Australian writer, to a time and place where the very notion of 'otherness' inherent in Buzo's play has shifted fundamentally is genuinely exciting. In effect, it allows the 'conversation' to move into a third dimension, not just Buzo speaking anew through a new production to the 21st Century, but Buzo re-engaged and reflected and responded to through a new theatrical vehicle, through the voice of a contemporary playwright. What Emma Buzo is doing is not simply asserting the continued relevance of the work of Alex Buzo but, in effect, instituting a vision which dares to examine Australian theatre as a historical continuum, which longs for the conversation to speak not only to the past and the present but for it to genuinely engage with the future.

Let me urge you to support this Company if you are tired of the form wars of the 1990's. If you are sceptical about avante garde always meaning non-naturalistic and non-narrative, if you disagree that innovation always means form not content, if you think that mere form experiments are insufficient to the enormity of the challenges facing our futures, if you want theatre to continue to unnerve and engage in a debate with its society, if you think that theatre can take a contemporary form and still be genuinely radical in what stories it priviledges to the Australian stage, and in who it invites into the audience for the Australian stage. 'The most common road sign in Australia is form one lane' 2 wrote Alex Buzo in an Adelaide Review article from November 1998 entitled "The Narrowing of Theatre in the 1990's" 'During the thirty years I have earned a living as a professional writer I have learned one thing. The theatre will recover and become an art form again. I am sure of it. No longer will everything come from one lane.' Yes, Alex, it will. And with no small thanks to your equally visionary and highly motivated daughter and, we hope, several of the people in this room who share just such a vision.

© Alana Valentine November 2008

1. Louis Nowra in 'Craft:Theatre' from "Chihuahaus, Women and Me', Giramondo, 2005.
2. Alex Buzo in 'The Narrowing of Theatre in the Nineties', from Adelaide Review November 1998.